Educational & Cultural Development Program in Spain
VOLUNTARY SPEAKERS IN SPAIN Is a 3-month unpaid volunteer training and development program provided by Educados International. Our program is designed to offer participants a unique cultural and language immersion experience whilst developing and gaining English teaching skills in a classroom in a Spanish school whilst living with a volunteer host family.
Becoming a Voluntary Speaker abroad in Spain is a once-in-a-lifetime experience, but we have a hunch you'll come back again and again. Life here is just too good!
All testimonials are from a Real Volunteer Speakers and have not been edited to sound more positive or less negative. Educados International believe that honest reviews are key to give potential applicants the confidence to decide if our Volunteer Program in Spain is right for them.
If you would like to read more detailed feedback. Visit our Testimonials/Blog page here.
Julie Gill from Australia. I built a strong relationship with both the parents and the children in my host family. My host mum always gives me great advice and I find her very inspiring.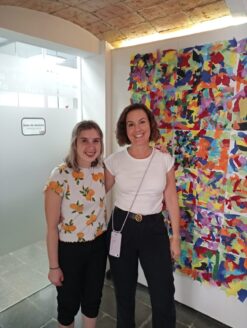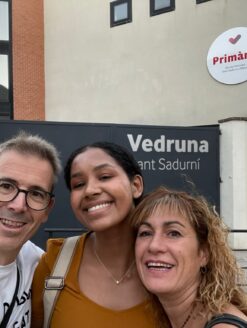 Amy from South Africa. Spanish families are much like South African families, close knit and the parents are very involved in their children's lives. When staying with a family you will become one of their children
Paulina from Ireland. The time really does go by quickly. I have no regrets. I am glad I applied for this program as I am gaining teaching experience and I see what the day in the life of a teacher looks like.
Ben from England. My general experience of the program has been amazing, I've loved every moment of it.
Click arrow for more
More about the program, life in Spain, the schools, host families and a bit of everything in between 🙂
Rebecca from Ireland. I would definitely recommend the program, as I've mentioned already, the work/life balance is great, you are gaining so much experience but also have free time to do whatever you want!
Loretta from Ireland. I have no regrets in joining this program. I would highly recommend coming here if you would like to experience teaching and the experience of living here in Spain.
Chris Hardy from Manchester. The family is what makes the experience and is 100% the most important thing to get right.
William from Ireland. I have been extremely fortunate with my host family. I couldn't have asked for a better situation. From the first moment they have made me feel right at home.
Click arrow for more
More about the program, life in Spain, the schools, host families and a bit of everything in between 🙂
Gugu from Cape Town, South Africa. This has been an amazing experience. Working with children is something else, there is never a dull moment! I haven't laughed this much in a very long time.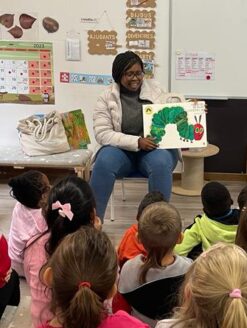 Liam from Canada. This experience has helped me to plan lessons and tailor them more specifically to certain age groups. Additionally, successfully integrating myself into an already functioning workplace was a very useful experience,
Stan from South Africa talks about his experience and adventures!
I will also never forget the first day at the school. Every grade made a big card with drawings as a welcome for me at the school. It was the most incredible thing!
Emily from ireland. I have grown personally in three weeks more than I have in years!
Embrace the Spanish lifestyle. It is a complete culture shock coming from Ireland to Spain we do nearly everything differently. But once you get over the initial shock just embrace it. They are so loving and want to show you everything that is great about Spain.
Click arrow for more
More about the program, life in Spain, the schools, host families and a bit of everything in between 🙂
David
My experience with the school has been extremely positive. Overall, I get on brilliant with the teachers, have many chats, great lunches, and coffees with an element of language exchange too. My host family have provided me excellent meals, hospitality, great company, family trips and are very understanding if I need anything. They also don't mind if I want to do things independently which is brilliant and would recommend any Voluntary Speaker to come to stay with my family.
Nicole
My experience so far above and beyond what I imagined. From the first day in the school the teachers are all so nice and always make me feel welcome. The students have been like a dream even the naughty older teenagers. With my host family I feel so comfortable around them all. The family haven't let me pay for anything so far, I have tried but they will not accept as they know I am volunteering on this project, and they insist on looking after me.

Brian
I don't have any regrets about joining and I would recommend the program to others. It's normal to feel nervous, especially if it's your first time doing something like this but don't be. Remember, you´re a native English speaker and you know the language inside-out and you have so much that you can impart to the students about English and your own country. Get involved with what the host family is doing as much as possible, and this will help you to connect with them.
Makayla
Absolutely no regrets, I am so glad I decided to do this, even though I missed my family a lot, it was worth it. I would absolutely recommend this program to everyone! I think it is an amazing way to get experience teaching in a foreign country. Don't even think about it, just do it!
Any Doubts Before Applying?
We're here to make sure you have the best travel abroad experience and get you living the life you've always dreamed of!
Discover more about our Volunteer program in Spain from members of the team and Voluntary Speakers who are on the program or have graduated.
These phrases cover basic greetings, polite expressions, asking for directions, and seeking assistance – essential for making your way…
Hola a tothom. Let's jet off to a place that's all about culture, history, and a language that's as cool as your favorite playlist – welcome to Catalonia! 🌍✈️
One reason I chose to undertake this program was to develop my skills in teaching English as a second language to students. Over the years, I have had multiple students who are EOSL and felt I didn't always know how to best support them. This program has enabled me to learn about pedagogies, curriculums and materials to support me in this program